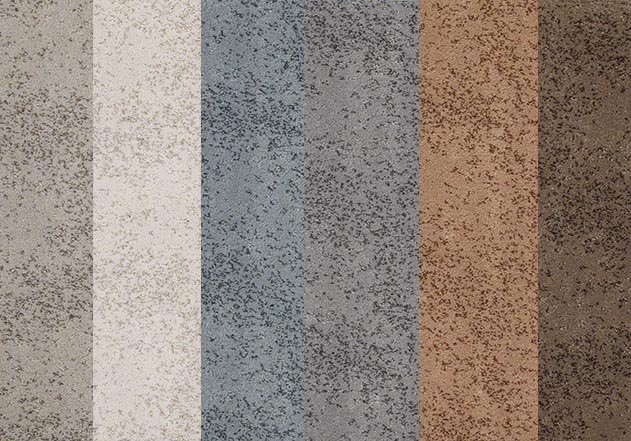 The selection of carpet is a very personal choice. You will want to select a color that unites your decorative elements and creates the atmosphere you desire. There are also practical considerations in color selection. New stain and soil resistant technologymakes today's lighter color carpet much easier to clean, allowing more decorating options. Medium and darker colors, tweeds, and textures will help disguise common soil in your home's high traffic areas.
Carpet comes in many different colors, from solids and tweeds, to berbers and jewels. Making a selection can be overwhelming, but it doesn't have to be. Trust your instincts in coordinating colors that enhance the design of your room.
Neutral colors are the easiest to decorate with and can give a room a spacious, airy look. While beiges are the most popular, neutral colors have expanded into other color families such as pale greens, sun-washed yellows, lilac and sky blue. If you want a bolder statement, use a more dramatic color to add flair and create an upbeat and sophisticated room. To achieve this look, identify a common accent color in your décor, and then find a coordinating carpet color. As a basic rule of thumb, warm colors can add comfort to a room that lacks light, while cool greens and blues can bring a calming ambiance.
Lighter colors can make a room seem larger, while darker colors can often make it more intimate and cozy. Darker colors, berbers, and tweeds also help disguise common soil in high traffic areas.
For more suggestions and ideas contact us today!